Construction manager app should be a tool that helps site managers with their daily duties at the construction site. What are these duties? Can all be done with the support of a mobile app? What makes a good site manager app?
We will try to answer these questions in the present blog post.
During my experience at various construction projects I learnt that in the recent years site managers have less and less time to take care of their core task. They are buried under tons of paperwork with little windows where they can actually go on site and manage whatever is going there. Of course the management of construction site activities should be the primary job for the site manager. After all, they are there to manage the site, right?
It's not that simple with all the current requirements for health and safety and quality documents. Not every project or contractor can afford to employ additional personnel on construction sites. There are even multi-million projects where there's only one person in the site management team.
Being a single person at the construction site means that you have a lot of responsibilities. Luckily, some of these can be less painful with the help of a construction manager app.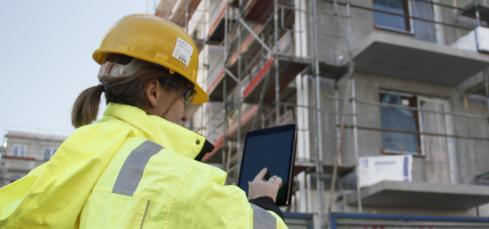 What are the main duties of a construction site manager?
If you do a quick research you find such a definition of construction site manager from Career Structure:
"A site manager also sometimes has the title of construction manager, building manager or site agent. He or she will oversee operations on a day-to-day basis, and ensure that work is done safely, on time and within budget and to the right quality standards."
I am sure these duties will vary depending on the type of project, specific construction sector or even your company's own policies.
Medium size and large contractors often times have either a quality policy or safety policy which describes the task and responsibilities of different roles including the one of site manager.
Construction site manager should be first of all responsible for the health and safety on a construction site. It's site manager's task to ensure that the work is planned and carried out in a safe manner. He may not need to prepare all the documents. However, he should review the documents from technical point of view and use his experience to assess if the planned method of construction is safe. He should of course ask for help when it comes to certain aspects which he's not an expert of. These could be lift plans or specialist safety equipment like for example for rope access works.
How construction manager app can help in health and safety matters on construction site?
Such app can assist in health and safety by allowing the site manager to make notes about potential safety issues, things to improve or positive feedback. When you spot a hazard on site you should report it to the supervision and safety teams.
However, in certain cases you may want to keep a record of it as well. Traditionally, site managers did not use mobile apps for such task. They took a photo and shared it with the notes in a form of a report when they were back in their office. They used office software and their desktop or laptops to do it.
With the advance of mobile devices like smartphones and tablets there is a broad choice of apps for site managers. Using construction manager app not only is more convenient but it also requires less time to make notes with photographic evidence.
When site manager walks through the construction site he can spot the safety issues and make a report with the construction manager app. Such a report can be sent and shared instantly with the team or with the responsible persons. This way they can resolve safety issues in a faster way.
Construction site managers should manage their workforce on site
Another important aspect of the construction manager's role is workforce management. They can do it directly by taking care of the workforce themselves. Also, they can manage the operatives with the support of supervisors, foremen and team leaders.
Whichever way feels better for you it can be also improved with the support from the site manager app. Such app can track the number of workers on site. You can do it by simply putting names of each operative into the app.
With large projects or larger contractors this may feel burdensome. In such a case, instead of typing each operative's name you can enter either the trade's name or the subcontractor's name into the construction manager app. Next to the trade's name you can add the quantity of operatives from each trade or subcontractor.
You can use construction site manager app not only to track and record the number of workforce on site. You can use it also to track productivity, planning and progress.
It's also construction manager's role to make sure that the planning of each task is done realistically but also economically. What does it mean? Site managers need to use their experience to plan works for the specific amount of operatives and time they need to complete the task. If they assign too many operatives to a task it may mean that too much money is spent.
Site manager app can support site managers in tracking and recording the workforce assignments. You can assign the task and work area to specific team. After the day or a week you can check how many manhours they spent on the task and what the progress is.
By checking the data on regular basis construction manager can ensure that the job is running on time and on budget. If it is not running smoothly, you can always use the data to plan changes and improvements. Nevertheless, without the information you are not able to make proper decisions.
Construction Manager App helps in cost control for construction projects
Cost control is also a crucial aspect of construction manager's job. He may not have influence on the selection of materials, subcontractors or equipment suppliers. However, construction manager can control the costs directly connected to the site activities. These might be the amount of manhours spent on the task or management of rental equipment maintenance, hires and off-hires.
Construction manager app again can be of much help with these tasks. You can keep records of equipment hired on site, quantities and maintenance periods.
How does it influence the cost control? It's a good practice to track all the equipment and ensure that you off-hire any tools that you don't need. Every piece of equipment which is hire for too long can increase the costs incurred by the project and reduce your profit margin.
With construction project manager app you can keep record of the type of equipment, quantities and also report any issues with the functionality. If you keep track of regular maintenance periods you can ensure that the equipment is checked and it's safe to use.
Track progress of your tasks with Construction Project Manager App
Construction manager app allows you also to track progress of installation works. This means that you can keep a record of how advanced the installation is. For example, your task is to install an architectural cladding on one of the internal walls in the office building. With site manager app you can track the progress of each subtask like setting out, installation of sub-frame and installation of cladding panels.
You can add the percentage of the task completion, notes or comments and photographs of the current state of work.
This can help construction managers to track the progress and ensure it is on schedule.
Site manager app can also help with snagging list, punch works and defects
Almost every work on construction project is inspected by third parties. This means that as construction manager you are responsible for installation works and someone else will inspect it. This can be a customer, quality team or the main contractor.
Mobile app for site manager can help you to track the punch works and manage defects. You can take photos of the defects add notes and make punchlist or snagging list.
You can share such a list within the team. Also, you can use it to track the progress of rectifying these defects.
Management of change orders and extra works
Another responsibility of construction manager is to ensure that the team on site carries out the works according to the contract. It means that if there are tasks which are out of the contract's scope these should be reported as change orders or extra works.
With construction project manager app you can not only report the extra works, but also track the progress of these works. Within the app you can add the number or name of extra work and add notes with photographs.
Quality control and compliance
On large projects or within large construction companies you may have a dedicated person or a whole team for quality control on construction site. For smaller jobs or contractors these tasks are often within the construction manager's responsibilities.
Construction managers should make sure that installation team carries out their work according to the technical specification. For instance, you may want to ensure that cladding panels have been installed within the tolerances of the design datum. Another example may be to make sure that torque values for bolts were applied according to the norms and requirements.
With construction manager app you can record these events and provide photographic evidence in a form of a report. You can present such a report the customer or keep it for future in order to present this information when necessary.
Overall record keeping is the most beneficial feature of construction manager app
We listed quite a few important aspects of the site manager's role where you can use the advantages of construction manager app. Nevertheless, I think that the most crucial benefit of such app for construction managers is that you can keep and archive the records from your construction site.
There are plenty of benefits to keeping records from construction projects and we dedicated a separate post about it which you can read here. But the main reason for keeping records is that any professional contractor does it for future reference. This may be for legal reasons or for commercial aspects as well.
To sum up, there are numerous advantages of construction site manager app. It depends of individual projects or tasks if you use these advantages in full. However, if you're a site manager and you're looking to improve your work you should consider using such mobile app.
It will not only help you to reduce the mountains of paperwork but it will also help you to focus on your key tasks and responsibilities. Construction managers should spend more time on the actual construction management. This means being on site and supporting the installation teams and concentrate on the issues.
Of course construction manager app will not resolve all the matters but for sure it can support the site manager with day to day tasks.
iNeoSyte – Construction Project Manager App that makes your field reporting fast and easy
We would not be able to conclude this post without recommending the best construction manager app – iNeoSyte. All of the features which I listed above you can find within iNeoSyte.
iNeoSyte is a mobile and web app that helps your construction project managers in doing field reports in a fast and easy manner.