Best construction apps help us improve productivity within the construction industry. How did we live without all this technology around us?
How did we carry out our daily construction management duties without mobile technologies like smartphones or tablets? It was not impossible, but it was different and definitely more difficult.
Nowadays we can choose from numerous construction management apps available on the market. However, it is even more troublesome now to select the right construction app for your needs.
We have researched the app market and prepared the list for innovative managers.
These are 13 best construction apps you should try in 2022. Since there have been a few new players on the market we decided to update this post and share a few more details about construction apps worth testing.
13 best construction apps in 2022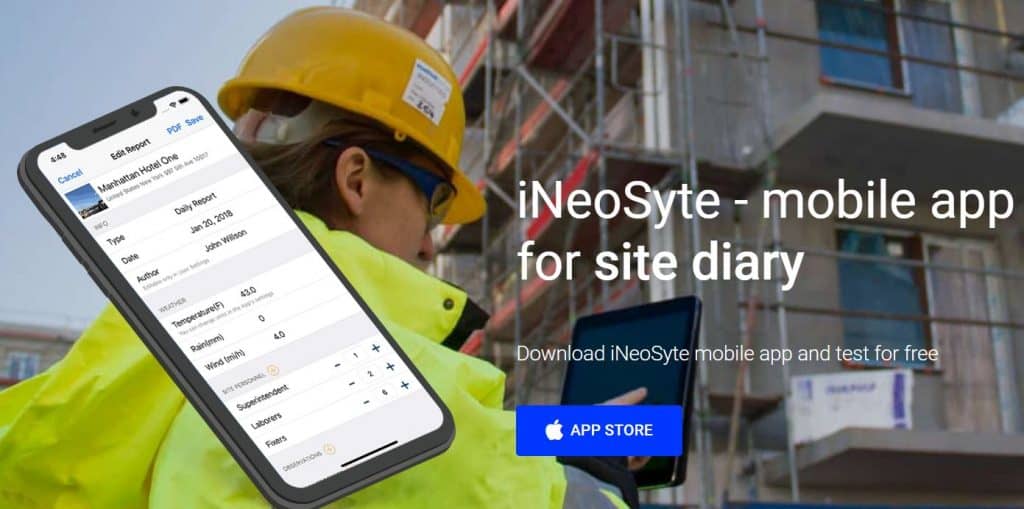 1. iNeoSyte – construction app for daily reports
iNeoSyte (iNeo Pro) is one of the construction apps that helps construction managers in making their field reports in a quick and easy way.
With a few taps and pre-defined project and report details site managers or field supervisors can make notes, take photos and generate professional PDF reports.
These reports can be shared via email or cloud-based system like Dropbox, Google Drive, Box, etc. iNeoSyte construction site app reduces time spent on the job site paperwork and lets you focus on the most important tasks on construction sites.
Why is it important to keep daily records at your construction site? There's plenty of reasons, but simply, it is a good practice to take notes on your progress, issues and add photos just in case you would need to check them in the future.
Weather you're a principal contractor, M&E contractors, fit-out contractor or GRC Cladding installation contractor you will find iNeo Pro app extremely useful for your trade.
This construction app is dedicated to creating and managing your daily reports directly from the field.
Hubstaff is a GPS time tracking software for construction teams that provides an accurate and painless way of recording work hours.
Hubstaff provides insight into how construction teams use their time and automates several time-consuming tasks. With Hubstaff, inaccurate, cumbersome paper timesheets are a thing of the past.
Some of its key features include:
Time tracking, attendance scheduling, and daily emailed timesheets

Precise GPS and location tracking with geofenced job sites

Time and expense budgeting

Powerful reporting and invoicing capabilities for billing clients
Crews can track their time with the tap of a button, or simply by entering the job site.
With Hubstaff, you can save time by no longer needing to track down hours, eliminating the need for guesswork, and staying on top of project budgets with ease.
Construction Industry Training Board provides great apps for construction operatives and management personnel.
If you want your employees to be trained with any of the CITB schemes a mobile app from them is the best way to prepare for an HS&E test.
These apps prepare construction personnel with behavioural case study questions.
The aim is to get you into a role of a new starter at a construction site. CITB apps contain also hundreds of multiple choice questions. They are segregated into different topics like Legal, Environmental, Asbestos, Personal Protective Equipment, First Aid, etc.
These apps track your learning progress and even mark difficult questions so you can study them in more detail. What is more, you can also take a mock test which is close to identical to the official CITB test in the test centre.

DEWALT is not only a respectable manufacturer of hand and electrical tools for the construction industry. In addition, it also provides a great construction app.
DEWALT Mobile Pro is a professional calculator for construction personnel. It does not matter whether you work as a roofer, bricklayer or as a carpenter, there is always a need for correct calculations.
Very often simple hand or mobile calculators are not best suitable for the job.
How is it different to a standard mobile calculator? You can select your trade and use specific formulas for material and work estimation customised to your needs.
For example, you can calculate the amount of concrete you need to pour for a slab. Moreover, you can calculate the amount of paint you need to cover a room. Any openings like windows or doors are deducted from the final surface.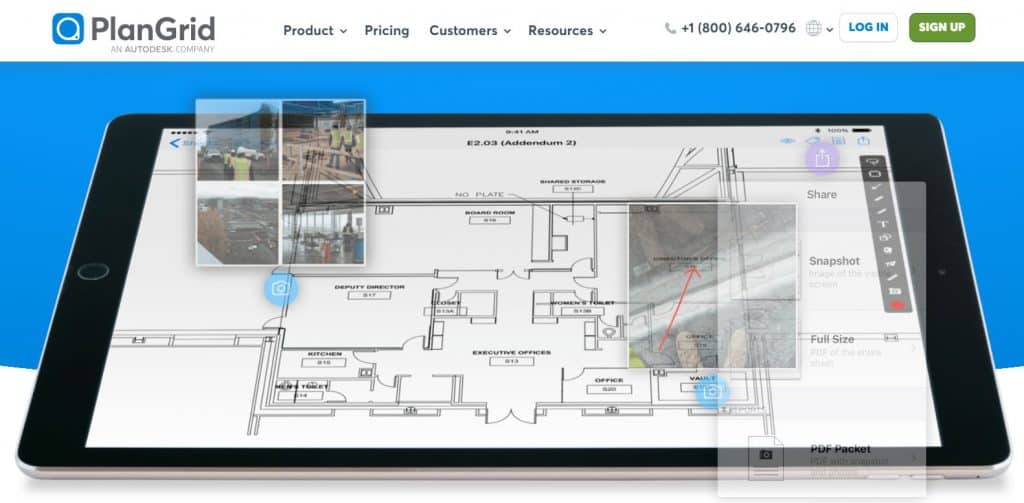 PlanGrid is collaborative construction app for the field that helps field teams work with the latest drawings. You can add any mark-ups and share them immediately with the design office and management team.
With PlanGrid you can keep all construction plans in your pocket. Furthermore, you can add notes, RFI's, punch lists and mark-ups directly on the drawings. If you need to compare different revisions of documents or drawings you can overlay them.
The app will highlight any changes. Any comments can be integrated into a PDF report and shared with your team members directly from a mobile device.
PlanGrid is also a great construction app for generating as-built documentation. If you work at a large project all features can be adjusted to enterprise needs.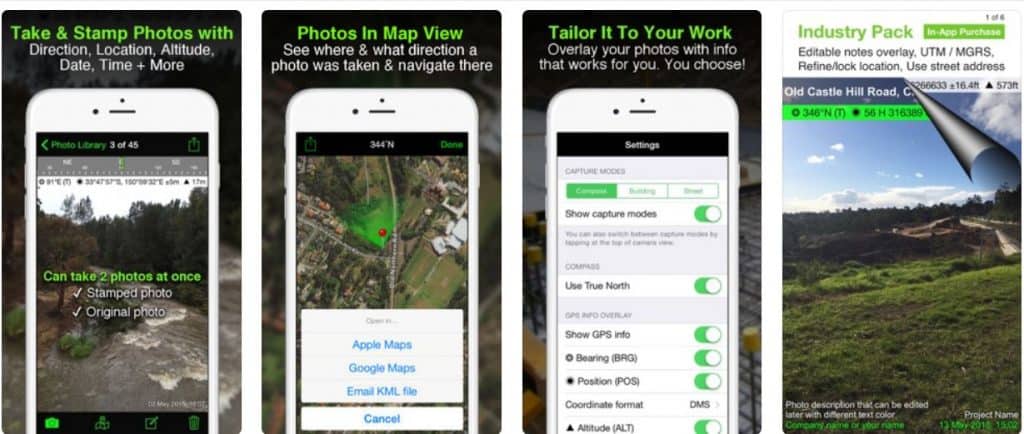 Solocator uses your mobile device camera and adds compass details and directions to photographs. This extra information make Solocator great construction app for your field photos.
Solocator allows you to stamp photos with date, GPS data, direction or even altitude. It works great if you need to add detailed information about specific location. Instead of writing descriptions relevant information is overlayed on your photos.
These features make Solocator great construction app for taking photos of issues, progress, snags, repairs and many more. You don't need to describe where the photo was taken as relevant longitude and latitude details are stamped on the pictures.
What is more, you can take photos with Solocator and than upload them to your field reports with iNeoSyte.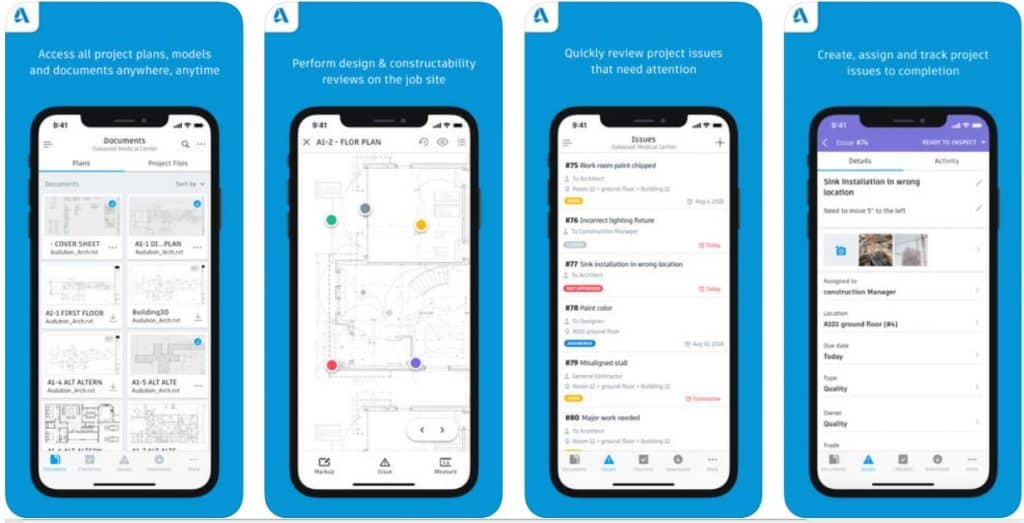 If your project is running under Building Information Modeling than this construction management app from Autodesk is a must.
Autodesk BIM 360 set of construction apps consist of a few parts:
Plan – production and resources planning app that uses lean construction principles to help field building teams to save time and money
Field – cloud-based collaboration allows site teams for marking up any issues and generating reports that can be shared with others
Docs – construction app that helps your team working with the latest up to date versions of your project documentation
Glue – mobile app for accessing and reviewing online and offline BIM models and working with intelligent objects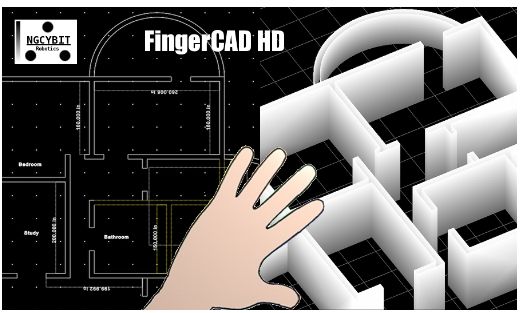 This mobile construction app is great for creating and accessing CAD drawings with just your mobile device.
FingerCAD allows you to draw bridges, mechanical parts, blueprints for offices or any other item that can be drawn on traditional computer CAD software.
It works great for architects, surveyors or site engineers. FingerCAD is suitable for both quick "hand" drawings and for advanced designs as well.
You can save files in one of the popular formats (e.g. .dxf) which you can share or print directly from the mobile device.
This construction app works with 2D drawings and 3D models.
You can download your plans or models from Dropbox or iCloud services. You can also use them for exporting your works.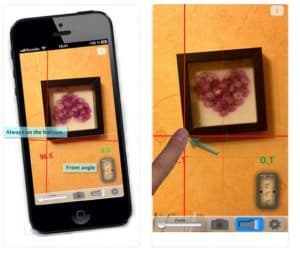 virLaser Level turns your mobile into a virtual laser level tool. The app displays horizontal and vertical levels.
How often do you forget to take your water or laser level with you when you need it? This construction app can use your built-in camera for measuring and displaying slopes and angles.
You can use it also as a veirtual protractor. It is very handy as you can keep your basic tool all the time in your pocket.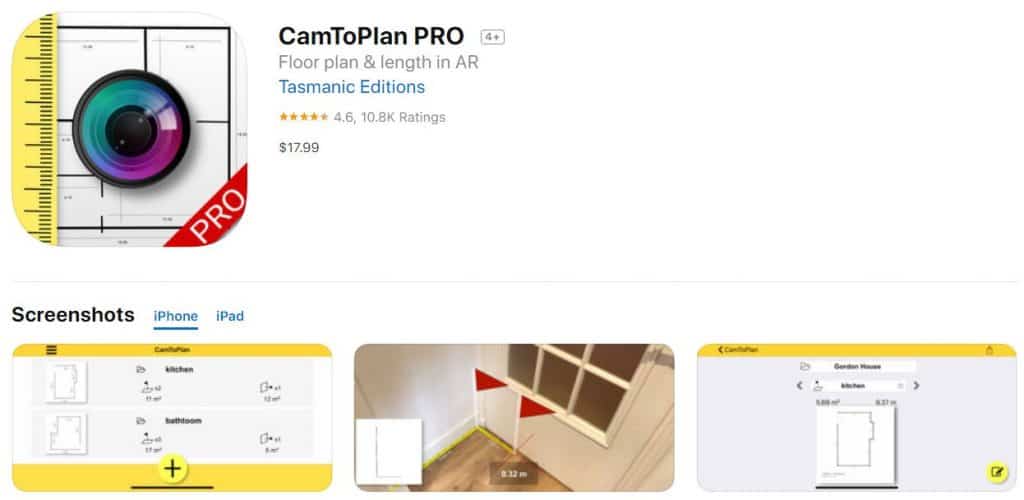 CamToPlan is an ideal construction app for making quick floor plans with your mobile device.
Thanks to augmented reality this app can take measurements of areas and create room plans just in seconds. All the details can be exported to other formats like PDF, PNG or DXF.
CamToPlan calculates the surface (in square meters or square feet) and draws the plan of the room with all measured dimensions.
One click is all it takes to share that plan. This construction app works great for quick estimations of surface and visualisation of the room floor, furniture, baseboards or walls.
Yes, you're reading it correctly. I strongly believe that Whatsapp is great for construction teams to communicate instantly.
We have been using is to exchange site photos, marked-up drawings or quick pieces of information.
Generally it is not allowed to talk over the phone when you are on construction site, therefore, Whatsapp is a great app for construction. If used wisely it can support the field team with crucial pieces of construction plans or missing data.
Especially when the actual construction site is away from the site offices or from the design office. Site personnel can use this app to communicate issues on construction site.
Additionally, you can create chat groups for field personnel or just for design or site management.
You can even separate various project or construction sites by using different chat groups. Just make sure it is used safely when on construction site and it is not overused.
This construction apps helps to cure your headache with regards to the tools and equipment you have on site.
Whether you hire the gear or buy it with Tooltracker app you can track and keep records of each individual item.
This construction app enables you to scan bar codes on the equipment or enter the details manually. You can assign people to each tool and mark on which job site it is being used. What is more, you can also track the maintenance and service history.
The pricing plan for this app is based on the amount of tools you track monthly. Head over to the app page to check the details.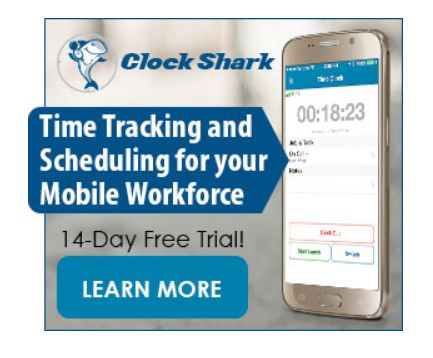 Clockshark is a time tracking app for construction crews. The app biggest value for it's clients is due to:
– Easy Integration With QuickBooks, ADP RUN, ADP WorkForce Now, Xero, Sage, and Zapier
– Automate time tracking for 100% accurate timesheets
– Cloud based time tracking for construction and field service crews
– Manage Paid Time off Policies Effortlessly
There are many more great apps on the market and we will be updating this post regularly.
What's you favourite construction app?
What's your best app that isn't primarily built for construction but you also use it at your construction projects? Let us know what you think in the comments section below.
General FAQ
What are construction apps?
These are mobile apps that are used by construction professionals like field engineers, site managers or designers. These apps can be used for construction daily reports, for management of construction team timesheets, for viewing, commenting and managing drawings or for simple communication and chat.
How much do construction apps cost?
Price range for construction apps is quite wide. Some apps may be free with loads of ads in them and some start from a few dollars. Most of the apps for construction professionals offer either monthly or annual subscription.
What are the benefits of construction apps?
The main benefit for a construction company is digitisation of documents. Thanks to mobile apps more documents can be accessed digitally. It makes finding information much faster and easier. Another benefit is that most construction apps allow cloud storage of documents. This means that daily reports or drawings can be accessed from any device in the world. Last but not least, construction apps assist contractors with better collaboration. All these aspects help construction companies to improve their productivity and performance.