How did we live without all this technology around us? How did we carry out our daily construction management duties without mobile technologies like smartphones or tablets? It was not impossible,  but it was different and definitely more difficult. It is even more troublesome now to select the right construction app for your needs. We have researched the app market and prepared the list for innovative managers. These are 8 best construction apps we found you should try in 2018.
8 best construction apps in 2018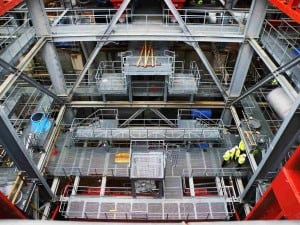 iNeoSyte is a construction app that helps construction managers in making their field reports in a quick and easy way.
With a few taps and pre-defined project and report details site managers or field supervisors can make notes, take photos and generate professional PDF reports which can be shared via email or cloud-based system like Dropbox, Google Drive, Box, etc.  iNeoSyte construction app is aimed at reducing time spent on the job site paperwork and focusing on the most important tasks on construction sites.
Why is it important to keep daily records at your construction site? There's plenty of reasons, but simply, it is a good practice to take notes on your progress, issues and add photos just in case you would need to check them in the future.
This construction app is dedicated to creating and managing your daily reports from the construction site.
This mobile app helps construction companies in tracking and submitting their employees time sheets.
Simply by using your smartphone or tablet you can clock in or clock out your job site operatives or office staff. It works great even without the Internet or mobile signal reception.
We chose this app as it aligns perfectly with the construction industry needs. Very often your site cabin is set up without the proper IT infrastructure and there is no possibility to connect turnstiles that read access cards or fingerprint scanners. TSheets mobile app allows you to add your operatives and enable clock in and clock out on a screen from tablet or smartphone. Timesheets for specified periods can be generated in PDF's and shared with HR, accounting and or any other selected team member.
Construction Industry Training Board provides great apps for construction operatives and management personnel.
If you want your employees to be trained with any of the CITB schemes a mobile app from them is the best way to prepare for an HS&E test.
These apps prepare construction personnel with behavioural case study questions where you get into a role of a new starter on a new construction site.  CITB apps contain also hundreds of multiple choice questions segregated into different topics like Legal, Environmental, Asbestos, Personal Protective Equipment, First Aid, etc. These apps track your learning progress and even mark difficult questions so you can study them in more detail. What is more, you can also take a mock test which is close to identical to the official CITB test in the test centre.
DEWALT is not only a respectable manufacturer of hand and electrical tools for the construction industry but it also provides a great construction app.
DEWALT Mobile Pro is a professional calculator for construction personnel. It does not matter whether you work as a roofer, bricklayer or as a carpenter, there is always a need for correct calculations and simple hand or mobile calculators are not best suitable for the job.
How is it different to a standard mobile calculator? You can select your trade and use specific formulas for material and work estimation which are customised to your needs. For example, you can calculate the amount of concrete to be poured for a slab. Moreover, you can calculate the amount of paint needed to cover a room, any openings like windows or doors are deducted from the final surface.
PlanGrid is collaborative construction app that helps field teams work with the latest drawings and add any mark-ups or comments that can be shared immediately with the design office and management team.
With PlanGrid you can keep all construction plans in your pocket.  Furthermore, you can add notes, RFI's, punch lists and mark-ups directly on the drawings. If you need to compare different revisions of documents or drawings you can overlay them and any differences will be highlighted. Any comments can be integrated into a PDF report and shared with your team members directly from a mobile device. PlanGrid is also a great construction app for generating as-built documentation. If you work at a large project all features can be adjusted to enterprise needs.
If your project is running under Building Information Modeling than this construction management app from Autodesk is a must.
Autodesk BIM 360 set of construction apps consist of a few parts:
Plan – production and resources planning app that uses lean construction principles to help field building teams to save time and money
Field – cloud-based collaboration allows site teams for marking up any issues and generating reports that can be shared with others
Docs – construction app that helps your team working with the latest up to date versions of your project documentation
Glue – mobile app for accessing and reviewing online and offline BIM models and working with intelligent objects
This mobile construction app is great for creating and accessing CAD drawings with just your mobile device.
FingerCAD allows you to draw bridges, mechanical parts, blueprints for offices or any other item that can be drawn on traditional computer CAD software. It works great for architects, surveyors or site engineers. FingerCAD is suitable for both quick "hand" drawings and for advanced designs as well. Files can be saved in one of the popular formats (e.g. .dxf), shared or printed directly from the mobile device.
This construction app works great with 2D drawings and 3D models.
You can download your plans or models from Dropbox or iCloud services and use them for exporting your works as well.
Last but not least, virLaser Level turns your mobile into a virtual laser level tool by displaying horizontal and vertical levels.
How often do you forget to take your water or laser level with you when you need it? This construction app can use your built-in camera for measuring and displaying slopes and angles. You can use it also as a veirtual protractor. It is very handy as you can keep your basic tool all the time in your pocket.